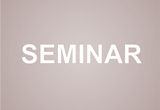 Safety Seminar and Halal 2016: Call for Papers / participant
Halal consortium of Central Java under the coordination Diponegoro University will hold a national seminar entitled SafetySeminar and Halal 2016 will take place on June 2, 2016 at the Hotel Grasia Semarang.
In this seminar, will present speakers from (1) the Ministry of Trade, (2) Prof. (Assoc) Dr. Alina Abd Rohim (Malaysia) (3) Deputy III POM RI, (4) Dr. H. Ahmad Izzudin, M.Ag (LPOM MUI Central Java), (5) Dr. Anton Apriyantono, (5) Prof. Dr. Abdullah (Center for Halal Undip).
Seminars on topics: "System Improvement and Implementation of Halal to Build National Product Competitiveness" and the committee invited experts, researchers, and the originator of the problems of safety and halal food, cosmetics, and medicines to be able to present the paper in this event.
Abstract deadline is on May 24, 2016. Registration can be done online through the website or can be sent via email to the seminar committee: halalundip@gmail.com
More information can be found on the website of the seminar: http://labterpadu.undip.ac.id/seminarhalal
Thanks for the attention of Mr. / Mrs. We look forward to welcoming Mr / Ms in this seminar to jointly discuss issues of safety and halal in Indonesia.