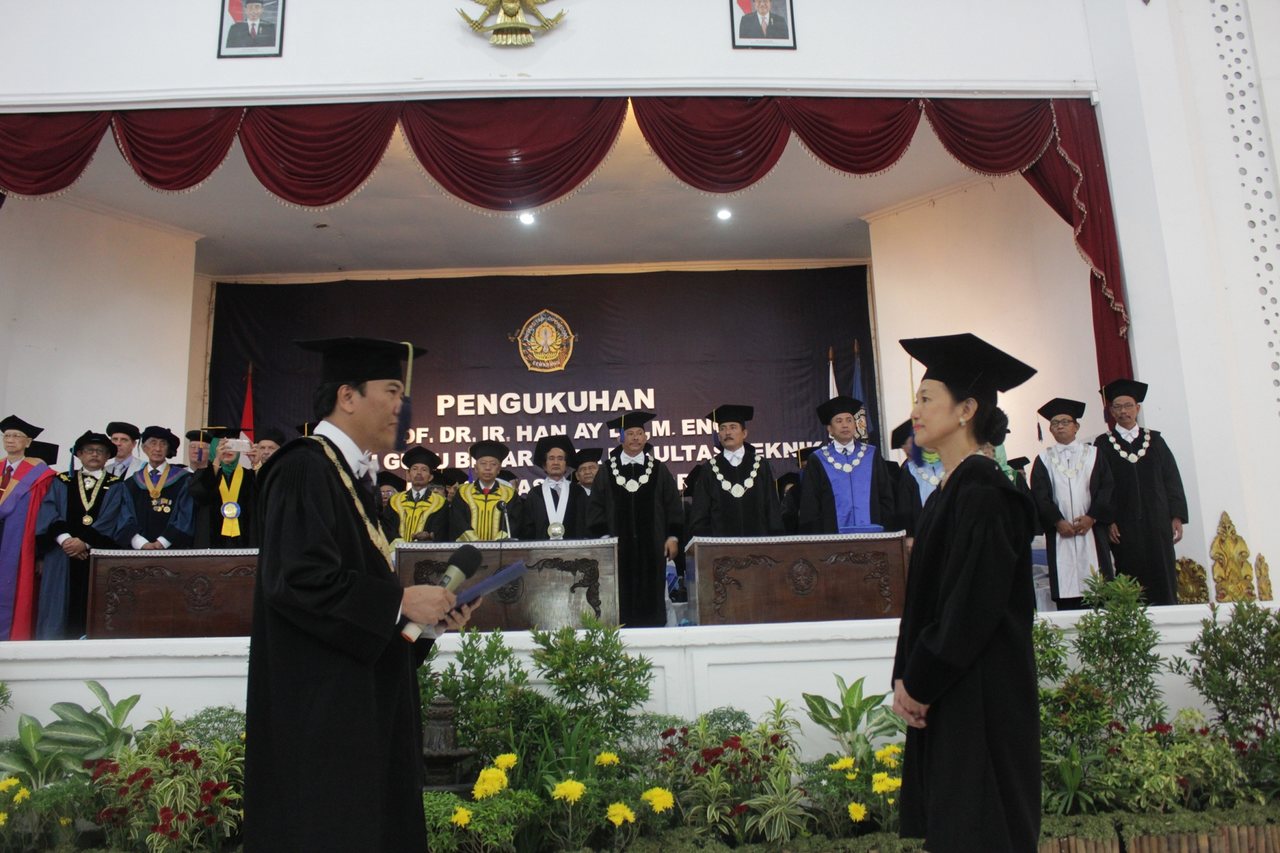 The Ceremony of Professor Han Ay Lie's Inauguration
Diponegoro University held the ceremony of inauguration for Prof.Dr.Ir. Han Ay Lie, M.Eng. as professor from Faculty of Engineering at Diponegoro Hall, Makodam Diponegoro on 12 July.
Speaking in the inauguration speech, Prof. Han Ay Lie, whom is familiarly called Ayke presented a topic tittled "Menuju Efisiensi Penggunaan Semen dan Konservasi Lingkungan melalui Inovasi Beton Bergradasi".
Further, she said that a graded concrete is an inovation to reduce cement needs to concrete's elemen according to its function. The concept of a graded concrete is to produce a strong concrete for area where needs high qualified concrete, but it makes low qualified concrete for area where no need strong concrete.
She explained that the concrete component which makes environment pollution is cement. Because it produces CO2 that contribute to greenhouse effect, dust, voice disturbance and vibration  because of production machine. The quality of concrete is depend on the composition of cement that are used. In order to reduce the quantity of cement, so the concrete is made layered with different strenght. Area that needs smaller strenght can use cement wiht lower compotition.
She said that this excellent research is collaboration between universities in Indonesia, such as : Diponegoro University, UNS Surakarata and oversea university, Nihon University at Koriyama, Japan. The research is developing a method of graded concrete production that produces smooth gradation. The research has passed validation test to find out the quality of a graded concrete.
The result of research shows that by using graded concrete, we can save cement up to 23%. As  a description, each production of 1 kg cement produces 0,77 kg of CO2. In 2016, the production of cement is 75,3 million tons. Using graded concrete will reduce gas emition a number of 12 million tons in a year. So that, we can save the cost up to 22,5 billions.
Next, the research will be more useful if it will be extended to geopolymer. The geopolymer concrete is not using cement. So that, using fly ash to replace cement function.
Meanwhile, Rector of Diponegoro University, Prof. Dr. Yos Johan Utama is proudly said thank you for Prof. Han Ay Lie's dedication, so that she is inaugurated as professor. It shows that Diponegoro University is more better and qualified.
Hopefully, it can motivate other lecturer to be professor and make Diponegoro University to the best university.