Semarang (22/11) – The series of activities of The 1st International Student Leaders Meeting 2022 themed "Collective Actions for Transforming Sustainable Universities in the Post-Pandemic Time" organized by Diponegoro University (Undip) in collaboration with UI GreenMetric and the Sustainable Development Solutions Network (SDSN) Indonesia at the Novotel Semarang Hotel continued on the second day, Tuesday, November 22, 2022.
Opening the 1st International Student Leader Meeting 2022 series on the second day, the Vice Rector for Academic and Student Affairs, Prof. Faisal, S.E., M.Si., Ph.D. stated that this event was Undip's commitment to promote SDGs and demonstrate its role as a green campus with national and international titles. "As an embodiment of the SDGs agenda in 2030, we are transforming a sustainable university, by building environmental conservation facilities, making efforts to reduce greenhouse emissions, and recycling goods," said Prof. Faisal.
Dr. Titik Anas, Special Staff of the Ministry of Finance representing Sri Mulyani Indrawati, S.E., M.Sc., Ph.D., Minister of Finance of the Republic of Indonesia who was the keynote speaker at this conference delivered a speech entitled "Facing a Global Economic Recession in 2023: What Young Generation Can Do". Dr. Titik conveyed that the world economic crisis has increased, especially since the Covid-19 pandemic and conflicts between countries.
This has an impact on all countries, starting from supply chains that are disrupted to a slowdown in the world economy which causes the unemployment rate to increase and triggers a world recession. However, Indonesia is a country that has been able to recover relatively quickly after the pandemic because of its solid economic foundation. "In the third quarter of 2022, Indonesia's economic growth rate reached 5.5%. Indonesia's economy continues to grow to realize the Advanced Indonesia agenda in 2035. In addition to economic recovery, national strategic projects, community service, and emergency regulation are also implemented to remain resilient in facing recession," she said in her speech.
The next speaker, Dyah Roro Esti, W.P., B.A., PG.Dip., M.Sc. who is a Member of Commission 7 of the DPR RI delivered her material with the theme "Renewable Energy for Sustainable Universities". Indonesia's territory was damaged by the climate crisis, so Bappenas formalized the Low Carbon Development Initiatives (LCDI) policy.
"Several state strategies to reduce carbon emissions include implementing energy transition policies, implementing CCUS technology, and innovating environmentally friendly vehicles," said Dyah.
Furthermore, Sitara Kumbale from the Regional Focal Point (Asia-Pacific) of Sustainable Development Solutions Network (SDSN) Youth explained about "Networking as a Tool for Sustainable Universities Implementation". Through SDSN which is the largest platform for the younger generation to accelerate action towards realizing the SDGs, youth can move together for a better world.
Meanwhile, Undip Vice Rector for Research, Innovation and Cooperation, Prof. Dr. Ir. Ambariyanto, M.Sc. with the material "Sustainability Leaders in Higher Education Institutions", explaining the three main aspects of Higher Education Institutions namely human resources, infrastructure/environment, and teaching and learning processes. "Let's realize the SDGs together by forming good leaders for the future," said Prof. Ambar.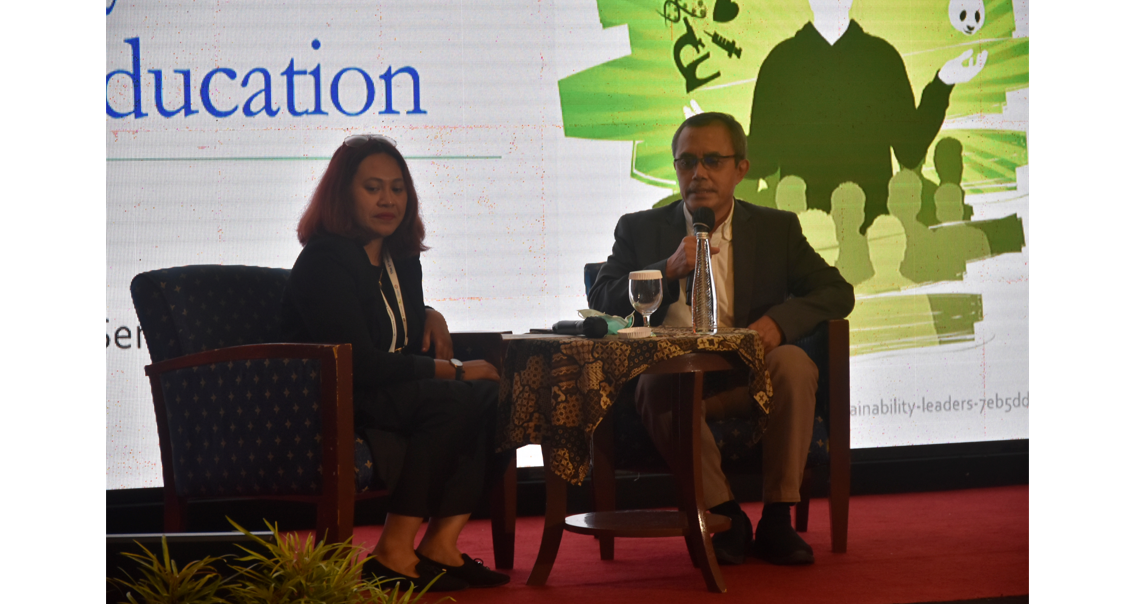 The next event was the Eco-enzyme Workshop with a presentation entitled "Eco-enzyme as The Alternative of Organic Waste Management to Support Sustainability" by Dr. Ir. Nurzainah Ginting, M.Sc. as Head of Eco-enzyme Team of UI GreenMetric World University Rankings Network (UIGWURN). Dr. Ir. Nurzainah explained that there is a lot of solid waste in Indonesia and the cost of handling it is quite expensive. Because of this, it is necessary to be consistent in treating waste, starting with a simple technology that has many benefits.
Then Dr. Junaidi, S.S., M.A. who served as UIGM's Vice Chair of Program, Communication, and Partnership discussed "Student's Role in Sustainability". Higher education institutions play an important role as a driving force for the transformation of our society. There needs to be cooperation between academics and students from various universities. "The role of students is to understand and participate in SDGs activities. Start from ourselves and do what we can," he concluded.
It is hoped that the presentation of very useful materials from experts and keynote speakers will equip the younger generation to care more about environmental issues and form the character of sustainable future leaders as the golden generation. (Titis – Public Relations)